A CONSCIOUS LIVING PRACTICE FOR TODAY – FEBRUARY 17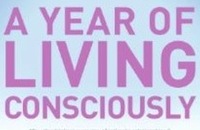 The stream of creation and dissolution never stops. — Heraclitus
HOLDING YOUR FEELINGS LIGHTLY
One of my friends has a saying that he claims is the secret to happiness: Don't squeeze your feelings. He means that when you're feeling happy, don't try to hold on to it, and when you're feeling down, don't try to keep from feeling it. Give all your feelings—both the ups and downs—room to breathe, and, like breath, they will pass quickly.
I was stuck in a traffic jam a while back, feeling hot and irritable because I was late for a meeting. Suddenly I remembered, "Don't squeeze your feelings." I took a breath and let myself feel irritated. A few seconds later my feelings shifted toward the pleasant, and, as if by magic, the traffic moved.
The moment you start taking your feelings too seriously, you get a grip on them and they get a grip on you. When you lighten up your grip on them, they get room to breathe, and so do you.
A CONSCIOUS LIVING PRACTICE FOR TODAY – FEBRUARY 17
Make a commitment to holding your feelings lightly as you move through your day. Initiate a thought such as, "I commit to giving all my feelings room to breathe today. I allow myself to feel all my feelings when I feel them, and I allow them to pass through without interference."
Purchase "A Year of Living Consciously" by clicking the cover below: