A CONSCIOUS LIVING PRACTICE FOR TODAY – FEBRUARY 19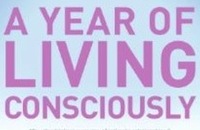 Taking a conscious stand for enjoyment is very important, because many of us have strong beliefs that relationships have to be effortful, painful, and difficult.
YOUR LONGING TO CONNECT
You are not alone in your longing to connect, to love, to be loved for who you truly are. Who knows, though, who you truly are? Do you hide it from others because the darkness in your soul is too shameful to be seen? And do you hide your longing, too, when it grips you? Do you reach for something, anything (the remote control, a box of candy, a beer, a cigarette) when your heart constricts with longing? The way you relax that constriction, the fist in your chest, will tell you and the world all you need to know about who you are when it comes to longing. If you relax the fist and make connections with others, you will become happy, free, productive. If you don't, no honors or accolades, no material goods that you acquire like blankets to warm your cold heart, will ever fill the void created by longing. Only one thing fills that void, and that is true, honest connection with other human beings.
A CONSCIOUS LIVING PRACTICE FOR TODAY – FEBRUARY 19
Close your eyes and spend a moment focusing on your breath and on the sensations in your chest. Feel your rib cage where it rounds your sides. Is it tight? Is it wrapped around your tender organs—and especially your heart—like a protective fence? Does it move easily and comfortably as you inhale and exhale, or does it seem to resist your breath? Now, focus on your heart; let yourself become aware of its presence in your chest. Breathing deeply, simply know your heart—its rhythms, its patterns, its color, its strength.
Purchase "A Year of Living Consciously" by clicking the cover below: