A CONSCIOUS LIVING PRACTICE FOR TODAY – FEBRUARY 2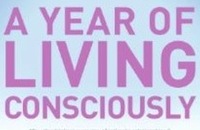 I like dreams of the future better than the history of the past. — Thomas Jefferson
TAPPING ENERGY
Some people are pushed from behind by the past, while others are drawn forward by the pull of the future. Which is more powerful? Which is more pleasurable?
One way to answer this question is to think of a farm image. Have you ever seen a horse pushing a wagon? Probably not. Take a moment, though, to imagine it. Not only doesn't the image make sense at an intellectual level, but it probably strikes you as absurd at a gut level (a level you should pay attention to and listen to more intuitively, as animals listen for the change in the tone of the wind and feel the electric charge in the air as a tornado approaches).
There is a great deal more power in the pull of the future—if you can let go of the past long enough to tap it.
A CONSCIOUS LIVING PRACTICE FOR TODAY – FEBRUARY 2
Let's reach far into the future to harness its power: Imagine being on your deathbed, still lucid and in a philosophical mood, when a visitor drops in to see you. Your visitor asks you, "Was your life a complete success?" Without hesitation, you answer yes! Your visitor asks, "What did you experience or accomplish that made your life a total success?" Again, without hesitation, you name off four or five things you did or experienced that made your life a journey of complete fulfillment. What are they?
Purchase "A Year of Living Consciously" by clicking the cover below: