A CONSCIOUS LIVING PRACTICE FOR TODAY – FEBRUARY 20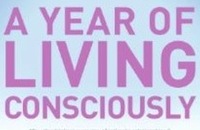 Infinite riches in a little room…
— Christopher Marlowe
HAVE AN "OUT OF YOURSELF" EXPERIENCE
Many people get trapped inside their own personas, especially as they approach midlife. They find themselves unwilling to do things outside their own worldview. Gradually their circle of friends gets tighter, the range of experiences they enjoy more limited. Unless they do something to shake themselves up (benignly, if possible), the circle can become a noose.
An antidote to rigidity is to do things outside of your experience, things you wouldn't ordinarily do. For example, I learn a new musical instrument every year or two. My wife, once afraid of flying, overcame her fear by going parachuting. Two elders of my acquaintance set the goal of going to at least one foreign country each year in their seventies and eighties, and they're sticking to their plan so far. Their philosophy of aging is "Use it or lose it." They go out of their way to keep the circle expanding rather than shrinking.
A CONSCIOUS LIVING PRACTICE FOR TODAY – FEBRUARY 20
Take some time today to think of several things that would be "totally unlike you" but that you secretly suspect would be very good for you. Generate a list of these, post them publicly, then do them!
Purchase "A Year of Living Consciously" by clicking the cover below: