A CONSCIOUS LIVING PRACTICE FOR TODAY – FEBRUARY 27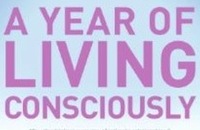 You can't step into the same river twice.
— Heraclitus
WINDOWS OF OPPORTUNITY
Continuing yesterday's example: By wondering, you made a crucial choice during the window of opportunity, the ten-second window. You didn't get defensive. You didn't allow yourself to be carried along by your assumptions and past experiences without checking in with your partner. Instead, you wondered. Wondering opens the door to the zone of the miraculous. Next, you opened up to your feelings, noting to your partner that you felt angry and defensive. By working through this process, you will not only attempt miracles, you will make them happen. By focusing on unarguable truths and by giving them a voice, you will be one breath away from creating a miracle in the most significant area of your life, your relationship to others.
A CONSCIOUS LIVING PRACTICE FOR TODAY – FEBRUARY 27
Identify several unarguable truths about yourself. It doesn't matter what area of your life they are about, only that they are true.
Spend a few moments, right now, simply sitting with these truths. Breathe slowly and deeply as you acknowledge the truths, and feel how it is to know these things about yourself. Do not judge, do not intellectualize, do not do anything but feel the truth about yourself.
The only way to deepen and go forward in a close relationship is through becoming more transparent.
Purchase "A Year of Living Consciously" by clicking the cover below: