A CONSCIOUS LIVING PRACTICE FOR TODAY – FEBRUARY 3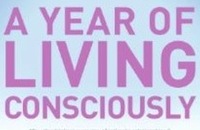 Such as we are made of, such we be.
— William Shakespeare
OF WHAT ARE YOU MADE?
Of what are you made? Are you made of the memories of your past and the realities of your present and the wishes for your future? What have you been and what will you be? The miracle is that the answer is yours to create. You will be that which you decide to be. Make up your mind to tell the microscopic truth and you will be honest. Vow to enjoy full closeness in your life and to clear up anything that stands in the way of that closeness, and it will be yours. Commit to your own complete development as an individual and you will see your commitment bear fruit. The magic of conscious living is that it is within your power to create it; with commitment and the proper tools, you are on your way to the conscious life.
A CONSCIOUS LIVING PRACTICE FOR TODAY – FEBRUARY 3
It is up to you to decide the path you will take in your life. One of the first steps is to ask yourself the right questions in order to see your path more clearly.
Spend a few moments today thinking about one word that best describes what you most want in the following relationship areas:
Family
Work
Friendship
Partner
Purchase "A Year of Living Consciously" by clicking the cover below: