A CONSCIOUS LIVING PRACTICE FOR TODAY – FEBRUARY 5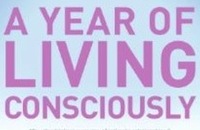 The deepest principle in human nature is the craving to be appreciated. — William James
THE ART OF APPRECIATION
One recurring theme you will discover in your year of living consciously is the art of appreciation. I cannot stress the value of appreciation enough. All it takes is one second of pure appreciation, followed by a clear expression of it, to send a relationship on a soaring spiral of positivity. It has become unpopular to do so in our cynical world; people roll their eyes and mutter "Pollyanna" at someone who regularly manages to find appreciation and positivity in the world. Many of you are hedging your bets, waiting for something good to happen before you express appreciation. This is the wrong way to go about it. Go out looking for things to appreciate—starting with the way things are, whether that reality is convenient for you or not—and riches will begin to flow toward you in ever-widening circles.
A CONSCIOUS LIVING PRACTICE FOR TODAY – FEBRUARY 5
Take three deep breaths—slow, full, easy breaths. Feel appreciation for yourself for ten seconds. Give yourself deep, rich appreciation for no good reason. Just appreciate yourself for the sheer pleasure of it. Now, think of one thing you really appreciate about someone you know. Find a way to get the appreciation to them within the next hour: a letter, a call, an e-mail. Watch what happens to the relationship—I predict that you will be pleasantly surprised.
Purchase "A Year of Living Consciously" by clicking the cover below: