A CONSCIOUS LIVING PRACTICE FOR TODAY – FEBRUARY 6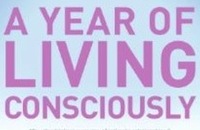 All the knowledge I possess everyone else can acquire, but my heart is all my own. — Goethe
DEFINING YOURSELF
What you have experienced and done, your history, often defines who you are. I have already discussed letting go of the judgment and blame you might assign based on your past while recognizing that you can't actually rid yourself of your personal history. If you are to have relationship knowledge, you must listen to the outward voices and to your intuition, your inward voice. You know what you think and feel, and you know what you see and experience; merging these things and learning to treat them as the truth is another step on your path to knowledge and essence.
A starting point on this journey of defining yourself begins with the act of putting down the pen with which you rewrite your story. That failed marriage that wasn't your fault? The drinking problem that you were driven to by circumstances beyond your control? Your tendency to have bosses who are easily irritated, thus keeping you from career advancement? Imagine, for a moment, the blissful freedom of coming at these things from the other side, the side in which you claim yourself (warts and all) and make peace with yourself and your personal history.
A CONSCIOUS LIVING PRACTICE FOR TODAY – FEBRUARY 6
When you are centered, your breath will tell you so. Take as long as you need to slow down, close your eyes, and breathe deeply, until you can feel a place in the very core of your abdomen begin to absorb the peace and good feeling that clean breathing brings. Stay there comfortably for a while once you arrive, allowing yourself to know that sense of well-being.
Each moment requires you to choose commitment or complacency.
Purchase "A Year of Living Consciously" by clicking the cover below: