A CONSCIOUS LIVING PRACTICE FOR TODAY – FEBRUARY 8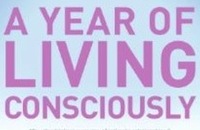 Habits are first cobwebs, then cables.
— Spanish proverb
GIVING VOICE TO YOUR LIFE
Since the advent of psychoanalysis, also known as "talk therapy," implicit in its approach has been the concept of remembering and giving voice to experiences in order to understand present relationships and the behaviors and neuroses that occur within those relationships. I believe in the importance of memory, particularly in the lasting impressions made by birth experiences, but too often I have seen therapy stop once a connection is made between the past and the present, as if to remember is to change. This is not so. That your heart knows everything it has experienced from birth on is true, but the idea that culling that knowledge from the dusty corners of your heart will create strong, loving, conscious relationships doesn't necessarily follow. You must do something with the secrets and truths you bring forth, translating them into present-day realities.
A CONSCIOUS LIVING PRACTICE FOR TODAY – FEBRUARY 8
Think about this sentence for a moment: I have heard from family or family friends who knew me when I was very young that my dominant personality traits were…
How have you continued to see yourself as you were defined early on?
How have these prophecies of others continued to define you?
Purchase "A Year of Living Consciously" by clicking the cover below: