A CONSCIOUS LIVING PRACTICE FOR TODAY – JANUARY 1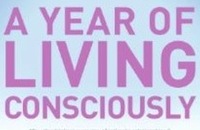 The journey of a thousand miles begins with a single step. — Lao Tzu
BEGINNING THE PATH OF CONSCIOUS LIVING
The journey of living consciously begins with a single moment of commitment, saying yes to the impulse within you that wants to grow, to expand, to embrace your largest possible self, to make your largest possible contribution to the world.
Saying yes does not mean you know how to handle each moment of the journey—and it certainly does not mean you (or anyone else) know how the journey will turn out. What you do when you say yes to the desire to live a more conscious life is to create a field of possibility around you and within you. As a child, my obesity was a problem my family tried to help me with—from special diets to experimental growth-hormone injections. I found myself in my twenties still struggling with the same problem. One magic day I realized I had never made my own commitment to having a healthy body, so I took a vow to get the weight off—no matter what it took. Within a month, I'd lost almost thirty pounds, with seventy more coming off over the next year. It was never easy, but it had never even been possible before. Now, twenty-five years later—190 rather than 320, where I started—I'm more sure than ever that it was that first step that did it. This field of possibility, opened by thousands of people for thousands of years, often has the effect of making life seem richer and more exciting, but always know that the field was opened by your willingness to take that first step.
A CONSCIOUS LIVING PRACTICE FOR TODAY – JANUARY 1
On New Year's Eve or New Year's Day, many of you make resolutions. You vow to lose that extra ten pounds, to start exercising, to save more money. I want to urge you to do those things that you know are necessary or worthwhile for you, but here, now, I am urging you to make a different kind of resolution. It is one that some might say is completely without merit, but I know better. Today, I urge you toward the following resolution: This year, I commit to living consciously, and I commit to having fun as I do. I commit to expanding my consciousness and my capacity for fun every minute of this year.
Purchase "A Year of Living Consciously" by clicking the cover below: