A CONSCIOUS LIVING PRACTICE FOR TODAY – JANUARY 13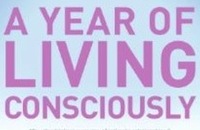 Mr. Duffy lived a short distance from his body. — James Joyce
EVERY COMMITMENT INVITES A CHALLENGE
Just after you make a big commitment, expect a big challenge to come along. Think of it as the universe's way of making sure you mean business. I made a big commitment to my health some years ago and embarked on a major diet. In the first week I lost five pounds and was beginning to feel better than I had in a long time. Lo and behold, a friend dropped by with a huge box of chocolates. I could actually feel the tug-of-war in my body between my commitment to health and my aching desire for a big chewy caramel. The caramel won that first round, but it made me feel sick, causing me to up my commitment to my well-being.
What you do to get in your own way is more powerful than any obstacle others can place in your path. When inner demons arise, know that they do so because of your commitment to a new way of being. When you make a big commitment, all your inner barriers to it are pushed to the surface to be purified by your acceptance.
A CONSCIOUS LIVING PRACTICE FOR TODAY – JANUARY 13
Tune in to the physical sensations you experience when you think about making a soul-level commitment to conscious living. Notice if you feel fear, anger, sadness, or some other sensation or feeling. Accept whatever arises, knowing that it is part of you that wants and needs acceptance.
Purchase "A Year of Living Consciously" by clicking the cover below: