A CONSCIOUS LIVING PRACTICE FOR TODAY – JANUARY 2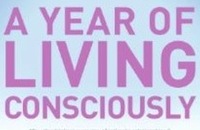 Learning something new is the bestest thing in the world. — Andrew Harper, age seven
WHAT CAN I LEARN TODAY?
Think of your journey of conscious living as a learning project, not as a healing project. A learning paradigm offers certain advantages over a therapy or healing paradigm. In the healing and therapy paradigms, you have to think there's something wrong with you before you can get better. In counseling people over the past thirty years, I've watched people struggle with receiving feedback, both from others and from the experiences in their lives. The big problem is that you flip into thinking "What's wrong with me?" when you get some feedback, and then you get defensive or start feeling bad about yourself. In the end, you don't get the message. A learning paradigm does not presume anything is wrong with you; it says simply that there are things you can learn to make your life and work more easeful and productive. In addition, the therapy paradigm often focuses on past events, presumably so a more positive present can be attained. While this may occur, the therapy paradigm often keeps people in thrall to the past, perceiving themselves as victims. The learning paradigm invites you to take full responsibility for your life, to make commitments in the present, to practice those commitments, and to identify goals for the future. The act of doing these things may pull past events to the surface, but they will emerge in the context of a forward-looking journey to the future, not in reference to the past.
A CONSCIOUS LIVING PRACTICE FOR TODAY – JANUARY 2
As you go through your activities today, return often to the question "What do I most need to learn right now?"
Realize that your journey is not about being right or achieving anything; it is always about learning what most needs to be learned.
Purchase "A Year of Living Consciously" by clicking the cover below: