A CONSCIOUS LIVING PRACTICE FOR TODAY – JANUARY 26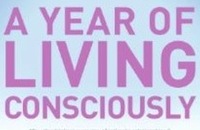 A man must make his opportunity, as oft as find it. — Francis Bacon
COMMITTING TO COMMITMENT
Before you can make a specific commitment about truth or responsibility or relationship, you must commit to being committed. This commitment means making a vow to yourself, a vow to wonder, to question, and to come to know your truth without burdening yourself with the limits of judgment and blame.
Both Laura and I have an "inner fat child," the chubby shadow of our former physical selves. We have both observed that it wasn't until we were able to lovingly receive that damaged, unloved child inside of us that we were able to access the healthy, newer physical selves we have fashioned. The receiving began with wondering, Who is this child I feel living sadly inside of me? And the wondering was without judgment: How can I love this child? How can I let this child know he is safe, she is loved?
A CONSCIOUS LIVING PRACTICE FOR TODAY – JANUARY 26
Continue to ask yourself about your commitment:
What is a soul-level commitment and how might I feel having made one?
How might I phrase a commitment to setting off on this journey and to owning and loving my essence?
Purchase "A Year of Living Consciously" by clicking the cover below: