A CONSCIOUS LIVING PRACTICE FOR TODAY – JANUARY 27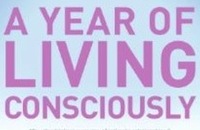 The first peace,
which is the most important, is that which
comes within the souls of people when they realize their relationship, their oneness,
with the universe and all its powers,
and when they realize at the center of the universe dwells the Great Spirit,
and that this center is really everywhere, it is within each one of us.
— Black Elk
ONENESS
In Black Elk's great vision, we are all connected to each other by the common center we all share. You carry the Great Spirit inside you, at the center of yourself, and it is always there, even when you're not paying attention to it. Knowing that you carry the Spirit inside you makes you at peace. Going further with this powerful idea, you could say that you declare war on yourself when you start pretending you are not one with anything. If you say you are not one with anger or fear or sexuality or any aspect of yourself or the world, a rattle of disharmony begins that soon sends an unpleasant vibration through the whole neighborhood of the billions of cells whose dance you are. Peace only comes when you declare yourself one again with all.
A CONSCIOUS LIVING PRACTICE FOR TODAY – JANUARY 27
Take a moment right now to feel your connection with everything. Feel how your body, though made up of many separate parts, is actually all one. Feel how you are exactly the same as all other human beings—all humanity is one. Feel how there is no "you" separate from the universe itself. It's all one thing, and you are it. As you move through your life today, focus on the oneness rather than the separateness of things.
Purchase "A Year of Living Consciously" by clicking the cover below: