A CONSCIOUS LIVING PRACTICE FOR TODAY – JANUARY 4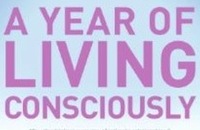 Grow up, and that is a terribly hard thing to do. It is much easier to skip it and go from one childhood to another.
— F. Scott Fitzgerald
HOW TO KNOW WHAT YOU'RE COMMITTED TO
It is simple to find out what you're committed to—just look at the results you're creating. A friend was complaining to me that he'd spent a great deal of time and energy hassling with the IRS during the past year. I asked, "Why do you suppose you're so committed to spending your time that way?" "But I'm not committed to that," he began to argue. Then a sheepish smile came over his face as he got the point. Later he phoned with this insight: "If I use my energy fighting the IRS, I don't have to do the tough work of creating some new income streams." Many of you are gripped by the loony idea that your intentions are different from the results you create. It simplifies life enormously the moment you accept that the results you create are your unconscious intentions made visibly manifest.
A CONSCIOUS LIVING PRACTICE FOR TODAY – JANUARY 4
Select a particular issue that's troubling you. For example, you might select "squabbling with my spouse all the time." Claim the unconscious intention to create that result: "I squabble with my spouse because I'm committed to squabbling with my spouse all the time." Notice your mind and body wanting to argue with this powerful assertion. But also notice the feeling of exhilaration when you finally own your unconscious intention. You're in the driver's seat.
Purchase "A Year of Living Consciously" by clicking the cover below: