A CONSCIOUS LIVING PRACTICE FOR TODAY – JANUARY 5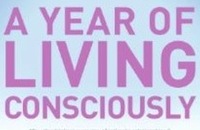 There is a period of life when we swallow a knowledge of ourselves and it becomes either good or sour.
— Pearl Bailey
THE NEED TO CHANGE
It is a natural human instinct to focus only briefly on that which needs changing and then to leap precipitously into action. Slow yourself; stop. Give yourself the luxury of the thought of letting go before requiring yourself to be practical, gathering your road maps to reckon with what lies ahead. Today is the time for developing your sight, for learning new ways of looking deep within and letting the layers of yourself be revealed in all of their gradual depth and glory. The process is all you have; the end point is of little consequence if you are not present for the journey. Let go of your need to move toward a set end point, to abandon things, to embrace the unfamiliar; there is time for sweeping change later. For today, your work is to peel back a layer of memory, an experience or feeling that has laid itself on your heart. Feel the newness of the self that is still tender underneath. Let it breathe. Love the layer you are uncovering and love yourself for your many facets and layers, especially the ones that have been most hidden within you.
A CONSCIOUS LIVING PRACTICE FOR TODAY – JANUARY 5
Find a time when you can be uninterrupted for five to ten minutes. As you immerse yourself in memory, filter out the thoughts that take you away from memory, and lead yourself gently back to this: Remember a time when you have fled some part of yourself precipitously. What were you running from? Why?
As you allow your mind to wander through the memory, embrace and accept all of the feelings as they come: sadness, frustration, anger, shame, fear…these feelings are as much a part of you as your strong jaw, your brown eyes, your reddened, glowing skin when you stand in the wind. You might as easily try to recreate your jaw, hide your eyes, forever turn your face from the elements as deny your own feelings. You are your feelings, and your feelings are you.
Purchase "A Year of Living Consciously" by clicking the cover below: