A CONSCIOUS LIVING PRACTICE FOR TODAY – JANUARY 7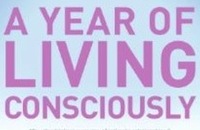 I think that we may safely trust a good deal more than we do.
— Henry David Thoreau
THE OVER-RIPE HEART
A pseudo-safety is created when you put your heart in hiding. It's natural for any creature to cringe and go into contraction when wounded, but the courageous human must unfold from the contraction and risk again in order to grow. After a painful breakup with my first love, I kept my heart sealed off for years. Looking back on it, I don't think I learned one useful thing about relationships in that whole time of hiding myself. Finally, I came out of hiding and into the world again. Sure enough, while I've felt my share of pain while out here in the living world, I have also felt once again the exhilaration of growth.
A CONSCIOUS LIVING PRACTICE FOR TODAY – JANUARY 7
Ask yourself several key questions today:
What am I hiding?
What or who am I hiding from?
What is the payoff for hiding?
What is the cost of hiding?
Purchase "A Year of Living Consciously" by clicking the cover below: