A CONSCIOUS LIVING PRACTICE FOR TODAY – JULY 1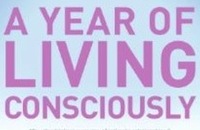 I think somehow we learn who we really are and then live with that decision.
— Eleanor Roosevelt
SHAKING HANDS WITH YOURSELF
Standard therapeutic wisdom holds that each partner in a relationship must assume responsibility for 50 percent of what goes right and for 50 percent of what goes wrong. I believe, however, that each partner must assume responsibility for 100 percent of what goes right and for 100 percent of what goes wrong. How can this be possible, you wonder—or am I just mathematically challenged? Here is how it works: Before the existence of this relationship in your life, you were a separate entity, and, ideally, you were 100 percent responsible for your life. On a day-to-day basis, there was no one on whom you could lay the blame for the decisions you made; certainly many people ascribe their behavior and feelings to the ghosts of the past, but those people make choices to let ghosts run their lives, if so. This is not responsibility; this is victimization. Why, then, when you enter into relationship, would your behavior suddenly become the responsibility of the other? Responsibility is a celebration of wholeness. A relationship is between two or more people who are each 100 percent responsible for their lives; anything else is an entanglement. If you are more or less responsible, you are not in relationship.
A CONSCIOUS LIVING PRACTICE FOR TODAY – JULY 1
Take a close look at your most significant adult-adult relationship right now and estimate the degree of responsibility you take for the following areas of that relationship. It is not necessary to draw conclusions today; I will continue to work on this with you; for now, simply know your first impressions without interpretation or judgment.
Emotional intimacy/well-being of the relationship.
Daily chores needed to support the relationship.
Initiation of sex and other play in the relationship.
Purchase "A Year of Living Consciously" by clicking the cover below: