A CONSCIOUS LIVING PRACTICE FOR TODAY – JULY 15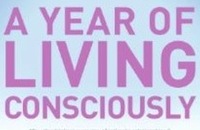 Life is to be felt, not figured out.
— Thomas Hardy
THE POWER OF EXPERIENCE
Something I learned in my first few years of practicing therapy genuinely surprised me: Peoples lives don't change through insight; they change through experience. For example, I've never seen an insight such as "my parents didn't love me" or "I was abused as a child" change anybody's life. What changes them is when they pause to experience their sadness about the loss or their anger at the unfairness of a situation. It's the moment of connection with experience that seems to take us off in a new and positive direction. Now I regard insight as something that sets the stage for experience. Some people become attached to insight and must be gently encouraged to let it go and open up to direct experience, such as letting themselves feel the pain of heartache or the gut-clench of fear.
A CONSCIOUS LIVING PRACTICE FOR TODAY – JULY 15
Ask yourself: What have I been reluctant to experience? Is there something I've been running from?
Perhaps it's a feeling such as sadness or fear. Other times it's an unfinished project or an unexpressed potential. Whatever it is, pause for a moment to let it register in your experience. Embrace it, breathe with it, open up to it.
Purchase "A Year of Living Consciously" by clicking the cover below: