A CONSCIOUS LIVING PRACTICE FOR TODAY – JULY 18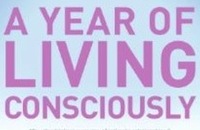 Take three deep breaths and call me in the morning.
— Graffiti on the wall at a holistic medicine conference
RELIEF IS JUST A BREATH AWAY
Remember the old advice to take a few deep breaths before making any move that scares you? It turns out that this advice is not only common sense but scientifically sound. Science now tells us that it only takes two or three deep breaths to change the anxiety chemistry in your blood in a more easeful direction. Next time you need to give a talk or take a driving test or audition for the Met, remember that you're only a few breaths away from a calmer physiology.
Popular holistic doctors such as Andrew Wei and Dean Ornish advocate breathing practices formerly found only in esoteric places like yoga classes and health spas. As medicine gets more complex and technological, many people are turning to the simplest possible treatments—moving, breathing, vibrant foods—to get the most health with the least technology.
A CONSCIOUS LIVING PRACTICE FOR TODAY – JULY 18
Take three full breaths right now. Savor them. Enjoy them all the way in and all the way out. Notice what your body feels like after three full breaths.
As you move through your day, visit your internal "breath doctor" frequently. Take a few full breaths now and then to fill your body with fresh new energy.
Purchase "A Year of Living Consciously" by clicking the cover below: