A CONSCIOUS LIVING PRACTICE FOR TODAY – JULY 2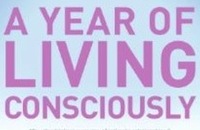 Nothing in life is to be feared. It is only to be understood.
— Marie Curie
INTERPRETING SENSATIONS
Remember a time when you were frightened, even terrified: your heart pounded and your breath caught, coming hard and fast. You have a physiological response to fear, but it is your interpretation of that physiological response that determines the outcome. Whether you are afraid or giddy with excitement or angry or sexually excited, many of the physical signs are similar: adrenalin rushes through your body, you sweat, your heart rate increases. You assign meaning to these symptoms because of the context. A pounding heart means a very different thing if you are alone in a dark alley rather than in bed with your lover. You can redefine your response to the fear of change.
A CONSCIOUS LIVING PRACTICE FOR TODAY – JULY 2
Feel your body sensations when fear comes.
Remind yourself that these same physical sensations are the ones you have felt during times of excitement and intense pleasure.
Allow yourself to ride on the back of the physical sensations, letting yourself know the exhilaration of feeling strongly, intensely, instead of focusing on the context, for the moment.
Remind yourself that what you feel is as much excitement and the thrill of the unknown as it is fear: you are allowing yourself to live on the exhilarating side of fear without assigning it negative connotations.
Purchase "A Year of Living Consciously" by clicking the cover below: