A CONSCIOUS LIVING PRACTICE FOR TODAY – JULY 20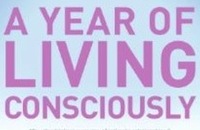 The question is this:
Is man an ape or an angel? I, my lords, am on the side of the angels.
— Benjamin Disraeli
THE POWER OF LEAVING ALONE
Much of the franticness you experience in your mind comes from critiquing the thoughts and feelings that flow through your consciousness every moment. Some say humans think upwards of fifty thousand thoughts a day, so things are crowded enough in your mind as it is. Then, if you add judging and criticizing those thoughts, no wonder your mind sometimes feels like Manhattan at rush hour.
What would happen if you simply let your mind be? What would happen if you just let yourself think what you think, with no attempt to edit, squelch, or control? What would happen if you let yourself feel whatever you feel? The worst that could happen is that you would just think whatever you were thinking and feel whatever you were feeling anyway.
You might find that if you leave it alone it will stop bothering you.
A CONSCIOUS LIVING PRACTICE FOR TODAY – JULY 20
Pause for a minute of special meditation. For sixty seconds, leave yourself alone. Take a break from wanting, doing, wishing, judging. Take a break even from accepting yourself. Just let yourself alone.
Purchase "A Year of Living Consciously" by clicking the cover below: