A CONSCIOUS LIVING PRACTICE FOR TODAY – JULY 21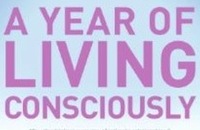 You become that of which you think.
—The Upanishads
THOUGHTS ON THOUGHTS
Here are two quotations about thoughts, drawn from teachers of conscious living from ancient times. It is remarkable that each of them says essentially the same thing—suggesting that human beings have had the same essential concerns for a long time:
Your disposition will be suitable to that which you most frequently think upon; for the soul is tinged with the color and complexion of its own thoughts.
Your life is what your thoughts make it.
— Marcus Aurelius
All we are is the result of what we have thought.
The mind is everything. What we think, we become.
— Buddha
A CONSCIOUS LIVING PRACTICE FOR TODAY – JULY 21
Consciously initiate several thoughts about who you want to be. Dream up a version of yourself that's pleasing. Dwell on those thoughts for a few moments, and return to them from time to time during the day.
Purchase "A Year of Living Consciously" by clicking the cover below: