A CONSCIOUS LIVING PRACTICE FOR TODAY – JULY 25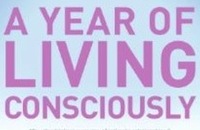 There is more space in your body than anything liquid or solid.
— elementary physics
FINDING THE SPACE WITHIN
You come equipped with your own powerful instrument for charting the vastness of inner space. It's called consciousness, and it comes factory-installed. All you have to do is learn how to use it.
One of the best uses of consciousness is for noticing all the levels of reality in you: feelings, sensations, thoughts, breathing, and the many facets of your personality. Solid scientific research indicates that people who know more about the various elements of themselves are not only happier, but they make fewer visits to doctors and take less medicine.
Once you decide to chart the immense regions of inner space, you'll be on a lifetime voyage of discovery.
A CONSCIOUS LIVING PRACTICE FOR TODAY – JULY 25
With an intention to wonder (rather than criticize or fix), place your attention on any sensation or feeling that is unarguably real inside your body. After the first sensation shifts, refocus your attention on another sensation, then another. Soon you may be able to feel the spaciousness that's behind and beneath and between all your solid and liquid parts.
Purchase "A Year of Living Consciously" by clicking the cover below: