A CONSCIOUS LIVING PRACTICE FOR TODAY – JULY 29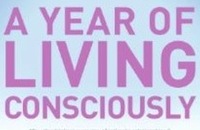 Just one great idea can completely revolutionize your life.
— Earl Nightingale
AN UNFLINCHING GAZE
In order to evolve along the path of conscious living, it's necessary to develop an ability to look unflinchingly at any ways in which you're out of integrity. This skill becomes more important the faster you move in life. A misaligned wheel on an oxcart doesn't cause much of a problem, but a slightly-out-of-integrity wheel on a Grand Prix racecar can spell death and destruction.
It behooves any traveler on the path to check for misalignment frequently. The quickest way you get out of truth with yourself is to bend, fold, or mutilate the truth when you speak. Be careful even in telling social lies: If you're angry and say you're not, you set up a force-field of dishonesty around you. If you say you'll call someone later and you don't, the field enlarges. Soon it can precede you wherever you go, and linger after you're gone.
A CONSCIOUS LIVING PRACTICE FOR TODAY – JULY 29
Renew your commitment to authentic speaking today. Do your best to avoid putting even the subtlest spin on the truth.
Purchase "A Year of Living Consciously" by clicking the cover below: