A CONSCIOUS LIVING PRACTICE FOR TODAY – JULY 3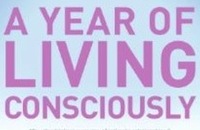 Fust he was sick—but now he's starvin'.
— John Steinbeck in The Grapes Of Wrath
THE OPENNESS TO POSSIBILITY
At the end of John Steinbeck's The Grapes of Wrath, Rose of Sharon, beaten down by life—or so it appears—hungry, poor beyond your imagination, without hope, sits broken in a barn. She seems to have given up, and you can hardly blame her. But then something magical and miraculous happens; she lies down beside a starving man, who is near death. Gently pressing his head to her breast, she begins to nurse him. In the moment of greatest surrender, when she gives herself up to the awesome forces of the universe that have tried to destroy her family—floods, famines, the cruelty of property owners—she finds an answer, and her commitment to life and to the life of those in the universe around her shines through. It cannot be dimmed. I often think, in these moments, of the Chinese word for "crisis" it is made up of the two Chinese symbols for opportunity and change. In your darkest, most hopeless times, you can be most open to change, to possibility, if you surrender yourself to complete, open relationship with the world around you.
A CONSCIOUS LIVING PRACTICE FOR TODAY – JULY 3
Spend a few quiet moments thinking about a time in your life when you have been in a state of crisis. You may want to use these beginnings of thoughts to guide you:
The worst crisis of my life was when …
I felt many things, but at the worst of the crisis, I felt …
When I finally gave in to the feeling, I began to …
In the time since, I have come to see that I came away from this crisis with a better sense of my …
When you have given yourself time to spend thinking about the crisis, make a commitment to yourself: I commit myself to knowing and experiencing even the most difficult feelings fully so that each occasion of doubt is instead transformed into an event of wonder.
Purchase "A Year of Living Consciously" by clicking the cover below: