A CONSCIOUS LIVING PRACTICE FOR TODAY – JULY 30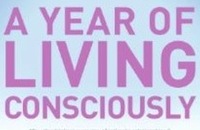 Facts do not cease to exist because they are ignored.
— Aldous Huxley
SPEAKING FROM THE CONTEXT OF DISCOVERY
Notice that every sentence that springs out of your mouth is from one of two contexts: discovery or defensiveness. In other words, when you speak a sentence, the words make a vibration in the air that floats over to the other person's ear on an invisible raft of context. Imagine yourself feeling a racy, queasy feeling in your stomach while engaged in an emotionally charged conversation. Perhaps you'll notice the other person's gaze wandering off.
Instead of saying, "You're not listening to a word I say," which would spring from the context of defensiveness, speak from the context of discovery. Say something like, "I just noticed your gaze shifting off," and "I'm feeling racy, queasy feelings in my stomach. As I tune in to it, I think I'm afraid. I'm wondering how we can communicate here." This kind of communication may sound strange at first, but after a while you'll get more skilled so it will sound insightful rather than artificial.
A CONSCIOUS LIVING PRACTICE FOR TODAY – JULY 30
As you go through your day today, notice the context of your spoken communication. Notice the words other people speak to you and to each other. Simply observe the context and notice whether it's discovery or defensiveness. You may be surprised, as others have been, at how much of the latter you observe.
Purchase "A Year of Living Consciously" by clicking the cover below: