A CONSCIOUS LIVING PRACTICE FOR TODAY – JULY 4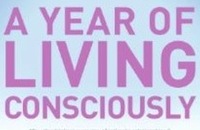 There's only one corner of the universe you can be certain of improving, and that's your own self.
— Aldous Huxley
GRATITUDE IS A SYMPTOM AND A HEALER
People feel more gratitude as they heal the wounds and disappointments of the past. I have noticed, both in my own life and in the lives of my students, that gratitude spontaneously happens the more I move through the shadows of the past out into the light of the present. So gratitude is a symptom of successful living, a sign that you are completing the unfinished business of past hurts.
Gratitude is not only a positive symptom; it's also a powerful medicine. Many times I've sat across from a person in the depths of a troubling issue, only to marvel as the person made the courageous step of expressing gratitude for the very thing that caused the wound. Rapid healing takes place when you express gratitude for something that has in the past been a source of anger or hurt for you. It takes raw courage to look your sadness, your trouble, in the eye and give it thanks for the lessons you have learned in its midst.
A CONSCIOUS LIVING PRACTICE FOR TODAY – JULY 4
Take a few minutes to look around at your life. What and who are you grateful for? Say so. Write a note, stop off with a small, inexpensive gift for the object of your appreciation, or pick up the phone to share how you feel…and then be conscious of how it feels to be appreciating.
Purchase "A Year of Living Consciously" by clicking the cover below: