A CONSCIOUS LIVING PRACTICE FOR TODAY – JULY 7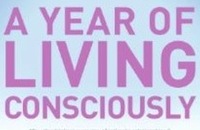 Ownership is to fear.
— Spanish proverb
THE HIGH ART OF GIVING THINGS AWAY
Once, while struggling through a period of sluggish creativity, I happened to be looking in my closet for a tie to wear. Suddenly I had an insight—there were things in my closet I hadn't worn in years! They were still there because I thought someday I might need them again. This led to an even bigger breakthrough. I decided on the spot to go through my closet and take out everything I didn't absolutely love to wear. If I liked it but didn't love it, out it went. If I thought I ought to keep it (perhaps because someone had given it to me), out it went. Within an hour I had eliminated three-quarters of my wardrobe, but what was left made me feel great when I wore it. What happened immediately afterward was inspiring: overnight my creativity began flowing again. Ideas popped left and right, and the time to do my writing projects suddenly materialized. I'm sure someone out there enjoyed my clothes, because most of them were high quality and like new. But it was really my own creativity that got the benefit of my philanthropy.
A CONSCIOUS LIVING PRACTICE FOR TODAY – JULY 7
Pick an area—your bookshelf, your closet, or your garage. Clear out everything you don't use. Then clear out everything you don't love. Give it away, and watch what happens in your life immediately afterward.
Purchase "A Year of Living Consciously" by clicking the cover below: