A CONSCIOUS LIVING PRACTICE FOR TODAY – JUNE 1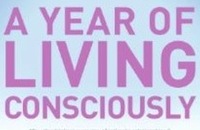 A lady of forty-seven who has been married twenty-seven years and has six children knows what love really is and once described it for me like this: Love is what you've been through with somebody.
— James Thurber
THE RELATIONSHIP DANCE
You choose partners who will bring your deepest hidden fears to the surface. Unfortunately, when those fears come to the surface, you often blame the other person for causing them. You don't realize that it was your own inspired choice of partners—driven by your need to grow beyond your fears—that brought the material to the surface. If you don't find your way out of this trap, you often pull back from the relationship and recycle the fears in some other relationship.
The conscious living (and loving) alternative: when your fears come up in relationships, take responsibility for them. Don't blame others for causing them. Instead, thank them for helping enlighten you, and ask for their support in helping you move through your fears to greater intimacy.
An example, if cliché: the commitment-phobic bachelor who has a twenty-year run, say, of shallow relationships and bemoans the lack of constancy and faithfulness in his love life. What might he discover if, when he first feels fear in a new relationship, he owns his fear? What if instead of blaming his new partner for wanting too much too fast he were to acknowledge that perhaps he is the one who feels tremendous need—and thus tremendous fear?
A CONSCIOUS LIVING PRACTICE FOR TODAY – JUNE 1
Think of one or two people who bring up the deepest emotions in you. Who pushes your buttons? Reach out to those people today—with a talk or a call or a note—and thank them for bringing you such powerful learnings.
Purchase "A Year of Living Consciously" by clicking the cover below: