A CONSCIOUS LIVING PRACTICE FOR TODAY – JUNE 10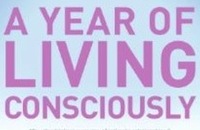 How many therapists does it take to change a light bulb? Only one, but the light bulb has to want to change. — Anonymous
LEADING A HORSE TO WATER
How do you have a relationship with someone who does not want to be conscious? Can you drag someone, with the proverbial kicking and screaming, into consciousness? You have undoubtedly heard the saying about leading a horse to water, and you have probably also heard the old axiom about therapy—whether an assisted process with a professional or something you set out on alone, as you are doing here—being useless unless someone wants help and wants change. There are two likely forms of resistance to change: one partner will verbally praise what you are doing and make commitments to join you in the journey toward consciousness, and yet, somehow, she or he will never seem to really be along for the ride. You will feel undermined during your travels, passivity-aggression at work. Another partner will be quite blunt about his or her unwillingness to make changes. In a sense, this partner is easier to deal with, because at least she or he is following a policy of honesty. Make a deep, searching examination of your partner, and give the gift of asking your partner if she or he is simply a passenger along for the ride or is planning on doing a share of the driving.
If your partner wants to join you in consciousness, then you can prepare for the richness of relationship; if your partner does not, then you can continue the process on your own, deciding as you move forward whether this relationship can or will be one that allows you to be yourself most fully.
A CONSCIOUS LIVING PRACTICE FOR TODAY – JUNE 10
Identify the one significant person in your life who is most likely to resist or attempt to thwart your attempts at change.
How will this person be likely to resist/thwart you?
How can you short-circuit this resistance process?
Purchase "A Year of Living Consciously" by clicking the cover below: