A CONSCIOUS LIVING PRACTICE FOR TODAY – JUNE 12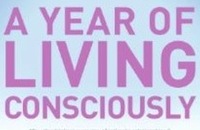 What upsets me is not that you lied to me, but that from now on I can no longer believe you.
— Friedrich Nietzsche
THE PATH OF HONESTY
Why do you long for the truth and yet spend so much energy keeping it at bay? Maybe the answer lies in your childhood, where the naked truth so often went unrewarded; you spoke from your heart and were greeted with looks of adult fury or horror or embarrassment. You, though, are committing to being truthful and to surrounding yourself with those who can bear truth. Now is the time to begin to dismantle your fear of what might happen if you make your path one of honesty.
A CONSCIOUS LIVING PRACTICE FOR TODAY– JUNE 12
Think back to what may have happened in your past when you told the truth. The results may have been unpleasant at times. Write down a few of the outcomes that you saw as a child when you told the naked truth, and then examine these outcomes. Are you living in fear of an adult version of the very same results today?
Purchase "A Year of Living Consciously" by clicking the cover below: