A CONSCIOUS LIVING PRACTICE FOR TODAY – JUNE 13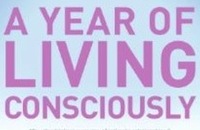 Habit is habit, and not to be thrown out of the window by any man, but coaxed downstairs a step at a time.
— Mark Twain
OLD HABITS
We all have habits; much earlier in this year of conscious living, you began to consider those habits that you carry with you, and that often influence your behavior. Maybe your habit is to silence your voice when conflict rears its ugly head; perhaps you have made yourself a bed out of victim-hood, one to which you retreat often and instinctively. Whatever your habit, you will have to let go of it if you are going to enter into a conscious relationship with yourself and with others. Being conscious means being aware, questioning your choices and your behaviors, not allowing yourself to lapse into the familiar and unworkable simply because it is what you have known.
A CONSCIOUS LIVING PRACTICE FOR TODAY– JUNE 13
Think on a habit you've broken or shed. Perhaps it was physical (smoking, nail-biting, overeating), or maybe it was more of an emotional habit (avoidance in the face of conflict, for instance). Identify the habit, and then identify what helped you to let go of this unworkable habit. You can apply your success in letting go of this past habit to the methods you use for letting go of current habits you want to shed.
Purchase "A Year of Living Consciously" by clicking the cover below: