A CONSCIOUS LIVING PRACTICE FOR TODAY – JUNE 17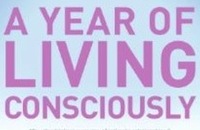 He who breathes deepest lives most.
— Elizabeth Barrett Browning
AN INSPIRING PROBLEM
Think of your conscious life as a breathing problem: how much can you breathe in, how much can you breathe out? In other words, regard your breathing as a metaphor for how deeply you want to live. Your full in-breath says, "I'm open to living to my deepest level of feeling," and your full out-breath says, "I'm open to expressing to my fullest in the world," Breathing is an exquisitely sensitive monitor of how you are living. At any moment your breath registers tiny fluctuations in your mood, your thinking, your surroundings. If you learn to pay attention to it, it will tell you more than the most sensitive biofeedback machine. It's no accident that many of the world's ancient languages use the words for breath and spirit interchangeably: atman in Sanskrit, spiritus in Latin, pneuma in Greek.
A CONSCIOUS LIVING PRACTICE FOR TODAY – JUNE 17
As you go through your day today, tune in to your breathing now and then. Observe it nonjudgmentally: Simply notice its qualities—full, easy, hesitant, ragged, held, forced, flowing. As you notice its qualities, make connections between your breathing and what else is going on in and around yourself.
Purchase "A Year of Living Consciously" by clicking the cover below: