A CONSCIOUS LIVING PRACTICE FOR TODAY – JUNE 22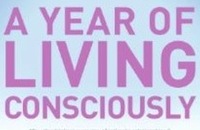 Great things are done when men and mountains meet.
— William Blake
YOUR HIERARCHY OF NEEDS
Abraham Maslow, a well-known psychologist, set up what he called a hierarchy of needs, which, among other things, helped to identify why certain people were engaged in certain levels of behavior. He said that before you can go on to focusing on engagement with others or self-actualization (which would include the important questions about and movement toward essence), you must first meet a host of lower-level needs, such as the need for food, shelter, and safety. Oddly, I have found the reverse to be true with essence; it is generally my experience that the more affluent the society, the greater the lack of self-knowledge. I wonder if this is because in an existence layered with things, it is harder to reach your essence. In fact, I wonder if the very purpose of the "things" people acquire isn't sometimes to provide a blockade between oneself and the difficult questions. If you allow acquisition and affluence to become a narcotic, perhaps you numb yourself enough so that the questions go away for a time. If you are out there, however, in the raw of human existence, searching for food and shelter, perhaps the questions—Why am I here? Who am I? What does this all mean? — take on a special meaning and import.
A CONSCIOUS LIVING PRACTICE FOR TODAY – JUNE 22
Look around you at some point today when you have a moment of peace in your home. Where are you in your own hierarchy of need? Are you trying to meet the most basic level of need, food or housing? Are you focused most on safety? Or are you focused on affiliation—connecting with others? If you have managed to provide a safe haven for yourself physically and in connection with others, perhaps your energy is now directed toward self-actualization. Think about one facet of yourself that you most want to focus on and give your energy to.
Simply being present with what is has so much power that you often do not give yourself more than a split second of it.
Purchase "A Year of Living Consciously" by clicking the cover below: