A CONSCIOUS LIVING PRACTICE FOR TODAY – JUNE 23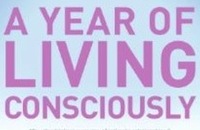 The great art of life is sensation, to feel that we exist, even in pain.
— Lord Byron
THE RELATIONSHIP QUESTION
One of the first things a relationship therapist learns is that couples argue to burn up energy that could be used for something else. In fact, arguments often serve the purpose of using up energy, so that the couple does not have to take the courageous, creative leap into an unknown they fear. Arguing serves the function of being a zone of familiarity into which you can retreat when you are afraid of making a creative breakthrough. Arguments are often like melodramas—they have a predictable beginning, middle, and end. Most couples have not had hundreds of arguments; they've had the same argument hundreds of times.
A CONSCIOUS LIVING PRACTICE FOR TODAY – JUNE 23
Pause for a couple of minutes and give sincere thought to this question: If my closest relationships worked harmoniously and smoothly, what would I do with the energy and time now expended in conflict?
Purchase "A Year of Living Consciously" by clicking the cover below: