A CONSCIOUS LIVING PRACTICE FOR TODAY – JUNE 26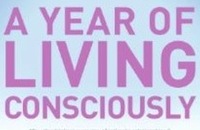 From error to error one discovers the entire truth.
— Sigmund Freud
THE ART OF BEING SLIGHTLY OUT OF CONTROL
We've all known people who were out of control — people who let their emotions gush, their bills pile up, and their waistlines go. It's never a pretty sight. A certain amount of control is important for a conscious life. So when I discuss the art of letting go of control, I'm not suggesting you get sloppy in any way. In fact, a slight letting go of control will usually make you more effective and efficient. The problem is that most of your excess control energy goes into trying to control things that you have no power over. You can't control whether someone likes you, or what happened in the past, or how the future will turn out. When you worry about whether someone likes you, for example, the amount of energy that goes into worrying is exactly the same energy that could be used to do something positive for other people.
A CONSCIOUS LIVING PRACTICE FOR TODAY – JUNE 26
Take a few conscious breaths—slow, deep, easy. As you breathe in and out, consciously let go of controlling other people. Let them be who they are, feel what they feel, think what they think. As you move through your day, take an occasional "conscious breather," a few seconds to remind yourself to let go of controlling the uncontrollable.
Purchase "A Year of Living Consciously" by clicking the cover below: