A CONSCIOUS LIVING PRACTICE FOR TODAY – JUNE 27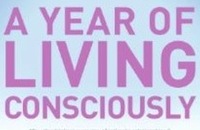 Whatever limits us we call Fate.
— Ralph Waldo Emerson
RETURNING TO INTENTION
An intention is one of the cornerstones of conscious living. If you will make a careful study of how intention works in yourself, you will discover a wealth of enlightenment. Think of intention as the first flow of energy in a particular direction. If you are eating a bowl of popcorn, for example, there was an original flicker of intention that sent you in that direction rather than toward mowing your lawn. There is a practical reason for studying intention. Since it occurs first, before thought and action, it makes an ideal place to catch yourself before careening into some line of thought or action that you'll later regret. If you are alone and heading toward the refrigerator late on a Saturday night, you might pause and ask yourself: Is my intention to assuage my hunger or my loneliness? A second's attention to intention can prevent an ugly moment on the bathroom scale the following morning.
A CONSCIOUS LIVING PRACTICE FOR TODAY – JUNE 27
As your day unfolds, pause in the heat of action to ask yourself, "What is my intention right now?" Observe your intention to make sure it is driven by your unconscious programming or your chosen path of conscious living.
Purchase "A Year of Living Consciously" by clicking the cover below: