A CONSCIOUS LIVING PRACTICE FOR TODAY – JUNE 29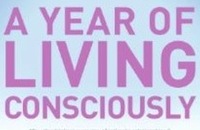 Life is either a daring adventure or nothing. To keep our faces toward change and behave like free spirits in the presence of fate is strength undefeatable.
— Helen Keller
WOE IS ME
There are those people who point to their bruises and rail against fate, insisting that a branch snapped against their tender skin, while forgetting, somehow, that they had squeezed shut their eyes so as not to see the branches ahead. "Fate," they sigh in the ever-recognizable voice of the victim. There is fate: floods come and tornados touch down, but imagine swimming in the raging floodwaters, letting the hungry winds of the tornado twirl you around in a wild dance of abandon. Some will hide from fate and change, cowering in the dark cellar of a frightened heart. You, though; you are different. You are preparing for a daring adventure of and in relationship, where you will face down fear and throw yourself right in the path of truth to yourself and others.
A CONSCIOUS LIVING PRACTICE FOR TODAY – JUNE 29
Find yourself a quiet place and time, and think on this:
I am different because …

Are you a victim or a volunteer? Much of the pain you experience is due not to the actions of others but to how you see the world.
Purchase "A Year of Living Consciously" by clicking the cover below: