A CONSCIOUS LIVING PRACTICE FOR TODAY – JUNE 3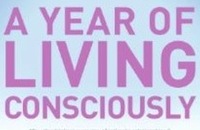 Be where you are; otherwise you will miss your life. — Buddha
THE CONSTANT SHIFT
One of the big insights of the Buddha was that nature, the universe, and we, its citizens, are all in a state of constant change. This insight has powerful practical value in daily life. If we know, for example, that the mood were in will shift of its own accord, we're less likely to panic when we re in a bad one or overcharge our credit cards when we re in a good one. If we know that sadness or anger will soon melt into some other feeling, we're less likely to try to force those feelings to go away. If we relax and let go, they'll pass by themselves.
I learned this lesson vividly one evening while on a solo retreat in a remote mountain cabin. I began feeling lonely, so I tried to call a few friends. No one was home. Still feeling lonely, I busied myself with a card game. Soon I was feeling even more lonely, because I wanted someone to play with. After a while I realized that the more I tried to get rid of the loneliness, the more it gripped me. Rather than push it away, I began to investigate it. Where did I feel it in my body? Was it heaviness or pressure or tension? Within a few moments the feeling had dissolved completely, replaced by a sense of adventure and calm.
A CONSCIOUS LIVING PRACTICE FOR TODAY – JUNE 3
Take a moment to think of yourself as a vast space with a lot of activity in it. For example, think of yourself as a rainforest or a big city. Get a sense of the millions of processes and activities taking place in the vastness of you. Everything is in flux; everything is on the move. Give all of those activities room to happen—let everything move and flow and change.
As you move (and flow and change) through your day, return occasionally to the sense of yourself as a vast space with immense movement in it.
Purchase "A Year of Living Consciously" by clicking the cover below: