A CONSCIOUS LIVING PRACTICE FOR TODAY – JUNE 4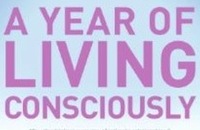 Blessed are they who heal us of self-despisings. Of all services which can be done to man, I know of none more precious.
— William Hale White
AWAKENING
If you have ever had surgery, you may have a vague memory of the moments when you began to awaken from the anesthesia. From some deep, dark place, you began to surface. The surfacing is not always easy; the unconsciousness presses down upon you even as your conscious self tries to push upward and emerge. Once you reach a conscious state, you find yourself in some strange place that is both painful and giddy. So it is with the choice to live the emotionally and relationally conscious life. Having spent so many years blanketed by denial and defenses, the letting go and coming to life—to conscious life—is sometimes a struggle. Your heart may protest: I am not strong enough! I can't bear the bright yellow light of reality; I will break from the strength of the honesty that surrounds me! This is not true, of course, but having not yet come out on the other side of consciousness, how can you be sure of its safety? You could trust my word—it is trustworthy. Or you could trust the feelings that you experience as you begin this journey, the breakthrough feelings of excitement, of hope, the glow of the truth the first time you let yourself speak it. Loosen your hold on a half-lived life and jump fully into the rich, brilliant, blinding colors of consciousness. Having been bathed in the light of conscious loving and living, you will never choose to return to the old ways.
A CONSCIOUS LIVING PRACTICE FOR TODAY – JUNE 4
How do you wake up in the morning? Are you easy to awaken? Difficult? Do you moan and groan and complain, or do you bounce out of bed with energy and enthusiasm? Think about the way you awaken, and you will learn something important about the way that you face life in general.
Purchase "A Year of Living Consciously" by clicking the cover below: