A CONSCIOUS LIVING PRACTICE FOR TODAY – JUNE 6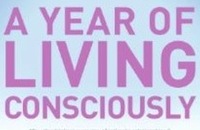 Be thine own palace, or the world's thy jail.
— John Donne
MIRRORING
If in your conscious existence you serve as a mirror to others—and, of course, to yourself—then it is no wonder that those living less consciously might not be pleased at their reflection in your joyful eyes. Even as you look on yourself with delight and newfound charm, someone else is seeing the natural reflection of the person who has not made the same commitment, who finds life and love to be an exhausting and repetitive exercise that consists mostly of making the same mistakes again and again. What does this mean for the relationships that you are in when you decide to grow, to change, to let a new way of living guide you? For the next several days, you will be considering what happens to relationships when one partner is engaged in the process of growth and change.
A CONSCIOUS LIVING PRACTICE FOR TODAY – JUNE 6
Look at yourself honestly and searchingly. Are you certain—in your very core—that it is not your intention to try to create change in others while publicly stating your own intention for change? This journey is about you; it is essential that you remind yourself of this along the way. Change is your own prerogative; it is not the work of others.
Purchase "A Year of Living Consciously" by clicking the cover below: