A CONSCIOUS LIVING PRACTICE FOR TODAY – JUNE 8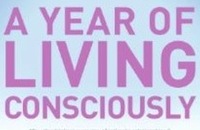 Think this about the fleeting world: a star at dawn, a bubble in the stream. — Buddha
MAKING TRANSITIONS EASIER
Many people, including me, sometimes make our transitions harder than they need to be. Things change…we change…we all go through ages and stages and feelings—that's simply the way life is. I've learned the hard way that it helps to confide in others when I'm going through transitions. It makes the change process much easier when you can open your heart to others as you grow.
One mistake I've seen people make—and one I've made myself—is to wait until we've got things all figured out before we share them with others. Waiting until we've got things tidily wrapped and packaged means sometimes that we wait for a long time before bringing other people in on the shifts going on inside us. Dozens of times in counseling sessions I've heard an exasperated person ask something like, "Why didn't you tell me what was going on inside you?"
Make changes easier by sharing the unanalyzed experiences, the confusing things that don't make sense, the feelings that seem to have no reason for being.
A CONSCIOUS LIVING PRACTICE FOR TODAY – JUNE 8
Find a quiet moment today to pass the following ideas through your mind:
It's all right to share my thoughts and feelings with others, even before I've figured anything out.
I don't need to understand everything I do.
I can let people in on my unanalyzed experiences.
Purchase "A Year of Living Consciously" by clicking the cover below: