A CONSCIOUS LIVING PRACTICE FOR TODAY – MARCH 11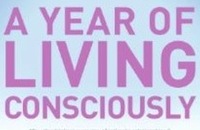 To change your life: start immediately; do it flamboyantly; no exceptions.
— William James
IN PRAISE OF FLAMBOYANCE
You're here to live out loud. One of the greatest sources of pain and suffering on this planet is the pain of unrealized potential. Many of you hang back from living out your dreams, hindered by those who specialize in squelching potential (which, of course, is usually because they aren't living out their own potential).
I recall meeting a woman of sixty-seven in a Paris park some years ago. She told me she had just walked up from Portugal, taking six weeks to do so. Furthermore, she said she'd been on the road since her retirement at sixty-two. She was walking around the world, she said, proudly showing me her eleventh pair of sneakers! Noticing her wedding ring, I asked her where her husband was. She reckoned he was probably back in Arizona watching TV. She said she'd asked him to come, but he said he didn't want to.
That's flamboyance in action.
A CONSCIOUS LIVING PRACTICE FOR TODAY — MARCH 11
Pause for a moment to answer these questions: What, for you, would represent you at your most flamboyantly positive life? What would you be doing if you were living at your full-out best? If you knew you could not fail, what would you do differently?
Purchase "A Year of Living Consciously" by clicking the cover below: