A CONSCIOUS LIVING PRACTICE FOR TODAY – MARCH 15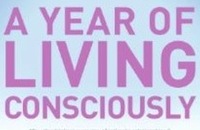 We only become what we are by the radical and deep-seated refusal of that which others have made of us. — Jean-Paul Sartre
CHOICE AND CONTROL
Say the word choice and you're likely to elicit any number of varying responses. There are those who are considered to have what is called an "external locus of control." These people believe they have little effect on the events that occur around and to them; like driftwood, they are buffeted by the sea, washed up on the shore, carried out on another random wave, all without any doing or any control on their part. The other group of people—and if you're reading this book and haven't tossed it off a balcony yet, I'm betting you're in this second group—have what is called an "internal locus of control." Not only do they know that they influence much of what happens in their lives, but they also realize that they are responsible for it. This is not to say that there are not random events that occur over which you have little, if any control, but the bulk of the things that happen to you happen because of you. Your locus of control will have much to do with the success of your journey toward conscious relationships. The choices you make will determine the satisfaction you feel in your heart and in your relational life.
A CONSCIOUS LIVING PRACTICE FOR TODAY – MARCH 15
Spend a few quiet moments now playing a word association game with yourself. As you look at each word below, notice the first word that comes to mind for you. Give yourself time to wonder about the associations you hold.
Choice
Control
Fate
Destiny
Purchase "A Year of Living Consciously" by clicking the cover below: