A CONSCIOUS LIVING PRACTICE FOR TODAY – MARCH 19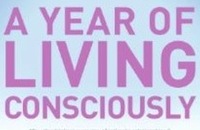 In a word, neither death, nor exile, nor pain, nor anything of this kind is the real cause of our doing or not doing any action, but our inward opinions and principles.
— Epictetus
THE COSTLY HABIT OF PROJECTION
Dropping projection can liberate a vast amount of energy in your life. Every time you project, you attribute to others something that's true for you. For example, a man may complain that his wife is too passive. Were he to own this projection, he would say "I haven't learned to be in a relationship with a powerful woman, so I require them to be passive. This must mean that I haven't opened up to my own full power. That's where the work is." Imagine how much difference this perception would make in the relationship. Projection is always born of fear. A projection is always based on the fear of fully owning the projected feeling or characteristic. The work is always in seeing the projection for what it is, then opening up to the fear that fuels it.
A CONSCIOUS LIVING PRACTICE FOR TODAY – MARCH 19
Think of someone you don't get along with. Picture the person's face, and get a sense of why you don't like that person. When you have a clear sense of what it is you don't like, accept that exact same quality in yourself. If it's anger you don't like about the person, embrace your own anger. If it's greed, say hello to the greedy place in yourself. As you move through your day, continue owning all the negative qualities you see outside of yourself.
Purchase "A Year of Living Consciously" by clicking the cover below: