A CONSCIOUS LIVING PRACTICE FOR TODAY – MARCH 2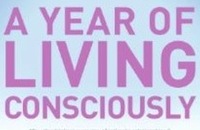 Messages from the body become ignored…relationships suffer, becoming entanglements of lost souls wearing masks rather than dances of whole beings celebrating each other.
TEN-SECOND MIRACLES
The ten-second miracle solves two problems that you face nearly every day of your life:
How to feel a flow of good feeling inside yourself, and how to open the flow when it has become dammed up.
How to feel the flow of love and good feeling between you and other people you care about, and how to release its flow when it has been blocked.
A CONSCIOUS LIVING PRACTICE FOR TODAY – MARCH 2
Close your eyes and visualize a place where you have felt happy, free. Breathe deeply and slowly, allowing good feeling to fill you to overflowing with joy. Honor that joy by not timing yourself, by not rushing. Just enjoy. This is how you can experience life day-by-day, hour-by-hour, minute-by-minute…and miraculous second by miraculous second.
Purchase "A Year of Living Consciously" by clicking the cover below: