A CONSCIOUS LIVING PRACTICE FOR TODAY – MARCH 21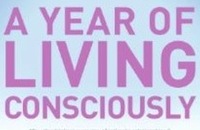 What if everything turns out to be an illusion and nothing real exists? In that case, I definitely overpaid for my carpet.
— Woody Allen
THE JOKE THAT NEVER GETS OLD
Almost all of the happy, successful people I've ever met have an ability to laugh at themselves. One advantage of learning to laugh at yourself is that you have an endless source of entertainment at your disposal. You'll have a joke that never gets stale, because there will always be something you're doing that's amusing. You can learn just as well from laughing at your mistakes as you can from decrying them.
My wife and I have an electric teakettle we use every day. We bought it primarily because the absentminded writer my wife is married to had a habit of putting a kettle on to boil, then forgetting to take it off. The great advantage of the electric one is that it turns itself off automatically when the water has boiled. With one easy ($80) move, all our problems were solved, except…
The other day, deep in what Kathlyn calls my writer's trance, I went into the kitchen, filled the electric kettle with water, then proceeded to put it on the stove and turn on the gas flame under it. Before I realized my mistake, the kettle had melted down all over the burner. Faced with this mess, and the extremely unconscious action that had caused it, all I could do was laugh and start cleaning up the mess.
Kathlyn smelled the burning plastic and came into the kitchen. She took one look, laughed—bless her heart! — and started helping me clean up the mess.
Consider the alternative. I could have gotten upset, Kathlyn could have gotten upset, and we could have spent the rest of the day in blame and recrimination. Why not just laugh and clean up the mess?
A CONSCIOUS LIVING PRACTICE FOR TODAY – MARCH 21
Set an intention today of laughing at yourself once an hour. Look for foibles to poke fun at, pomposities to puncture, mannerisms to lampoon. If you run out of ideas, ask a friend to tell you a few things about you that others find absolutely ridiculous.
Purchase "A Year of Living Consciously" by clicking the cover below: