A CONSCIOUS LIVING PRACTICE FOR TODAY – MARCH 23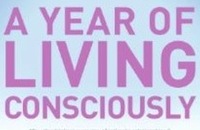 Awake, arise, or be forever fallen!
— John Milton
BEING: A PLACE IN THE WORLD
The growth of a close adult relationship often parallels the early stages of childhood development. Your first task on earth after you are born seems simple enough: being. All that is required of you is that you "be," exist and receive from others. In many ways, this is sufficient in the earliest days of many new adult relationships; your partner takes great delight in you, not demanding or requesting that you do anything except exist, and you, in turn, appreciate your new partner in the same way. I am asking you to focus on this sensation of just being: breathing, existing, having your perfect place in the universe, where there is no wish for more, for less, for better or worse; you simply are, and in being, you achieve relationship with the universe that is without struggle.
A CONSCIOUS LIVING PRACTICE FOR TODAY – MARCH 23
Think back to the earliest days of your current or most recent intimate relationship and spend a few moments today wondering about
The first thing I remember doing for my partner.
The first thing I often find myself doing for partners in new relationships.
The first memories I have of my mother or father doing for me.
Purchase "A Year of Living Consciously" by clicking the cover below: