A CONSCIOUS LIVING PRACTICE FOR TODAY – MARCH 24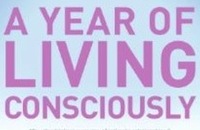 Teach us to give and not to count the cost.
— Ignatius Loyola
DOING: A PLACE IN THE WORLD
The second task for the infant is slightly more complicated; it involves doing. You learn to explore and to act on and respond to the environment in rapidly evolving ways. Again, your adult relationships are similar; once the earliest rosy glow fades slightly, you may find yourself beginning to attempt to be known to your partner by doing: you cook her a complicated dinner, which tells her that you are giving and nurturing, perhaps, or maybe she challenges you to a game of basketball to illustrate that she is strong and capable and fun in multifaceted ways. Simply existing is no longer enough. In the doing stage, you are learning whether you can have connection and unity together in this relationship.
A CONSCIOUS LIVING PRACTICE FOR TODAY – MARCH 24
Go back to the earliest days of the relationship you are in now. Can you remember the point at which you began to move from the "being" to the "doing" stages? What kinds of things did you do to make yourself known to your partner? Are these things that are naturally satisfying to you, things that you enjoy doing, or are they things that you have always done because you believe them to be of value to others or because you believe them to fit a persona that you were trying to fit? (For instance, perhaps you cooked—despite not enjoying cooking—because to be "wife material" means being able to cook). Think about how you can let yourself be known truthfully to another without falling into the trap of doing things that fit within a persona but not with who you are.
Purchase "A Year of Living Consciously" by clicking the cover below: